Skin Layers¶
Templates, scripts, images, CSS and JavaScript files are organized with skin layers.
Note: in the context of components, "layer" has a slightly different meaning.
A skin is comprised of a series of skin layers. On the file system, each layer is a directory. In the Zope Management Interface (ZMI), each layer appears in portal_skins as a separate folder (containing page templates, style sheets or Python scripts).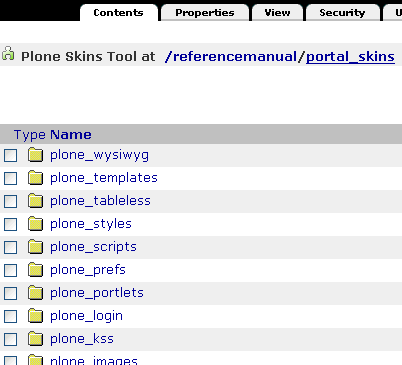 These have two uses.
Firstly they keep things organized. If you take a look at the Plone Default Skin (part of which is shown in portal_skins in the screenshot above) you'll see that they've separated out templates, scripts, styles and images into separate skin layers.
More importantly they have an order of precedence. This means that an item named main_template in the top layer will be found and used before an item named main_template in the bottom layer. We will go into this in more detail on the next page.
To create a skin layer through the web, simply add a new folder. On the file system, add a directory to your skins directory. You will also need to add a small amount of configuration to ensure that your directory is found and registered as a skin layer on installation.
Firstly, in [your theme package]/skins.zcml

<cmf:registerDirectory
       name="[Your Skin Directory Name]"/>

Next, in [your theme package]/profiles/default/skins.xml

<object name="[Your Skin Directory Name]"
    meta_type="Filesystem Directory View"
    directory="[your namespace].[your theme name]:skins/[Your Skin Directory Name]"/>

and

<skin-path name="[your skin name]" based-on="Plone Default">
  <layer name="[Your Skin Directory Name]"
     insert-after="custom"/>
 </skin-path>